Want to become known for creating those hyper-realistic, affordable, and low maintenance brows that every woman wants?
Do you want to be the best in brows?
Want to take your brow game to the next level?
FACT:
Microblading is the HOTTEST thing to happen to eyebrows, ever. It's hyper-realistic, affordable, and low maintenance. It's no wonder this technique is picking up some major traction on social media.
If you want to remain competitive in the beauty world, you must add microblading to your repertoire.
FACT:
As with any tattoo, there are amazing microblading artists, average artists, and not-so-good ones. If you want to stay in business, you need to be amazing. And that means being trained and certified with the absolute experts in the business.
Don't settle for the bargain bin certification. You'll quickly be out-competed for business.
There are many courses out there, but only PhiBrows has the years of experience, laser-focus on the industry, and proven Masters at work. You don't want to spend your hard-earned money on something that will only teach you the bare minimum. That's why PhiBrows is world-renowned—they spend the time, share their expertise, and ensure your success.
Take Your Customers from Meh to ME-OW
Before and after microblading by PhiBrow-certified BrowPro technician Ashley.
PhiBrows Masters are coming to Canada to train YOU in the art of microblading.
PhiBrows is the leader in microblading education. Perfecting their courses, staying ahead of the curve in new technologies, and training artists like you is all that PhiBrows does. They have laser-focused their business on creating experts in eyebrows. When it comes to esthetic education, no one does it better. Period.
And for two days ONLY, we're flying them in for a limited engagement.
PhiBrows Masters Quin Tran and Taiyaba Saleem are coming to Calgary to share their knowledge and true artistry of microblading. Our previous workshops with them got rave reviews. Which means if you want to learn from the best so you can be the best, you need to take advantage of this two-day workshop NOW. Basic certification is happening May 12-13th, 2018, with the additional Bold Brows workshop on May 14th.
Then we're offering a bonus day!
Once you've got your basic certification, spend an extra day with Taiyaba to learn how to create the bold brows that have become very popular in Hollywood. Become a master in sculpting those thick and fluffy model-esque brows that everyone is craving these days. Already certified previously? Join us for this one-day workshop only!
But there is a limit...
To make sure you get the most one-on-one feedback and instruction, we're limiting each workshop to ten participants maximum. This is highly beneficial for the lucky ones that snag a spot, but it also means that you could be left out if you don't act fast. Spots are filling super quickly.
It's more than a workshop
Sure, that's the hands on, nitty-gritty part of it. But did you really think we'd coach you for two days then desert you? After your in-person two-day workshop, you'll get six months of access to PhiBrows' Craft Master online learning portal. Scour through hours of video and photos, get your questions answered by PhiBrows' official technician, chemist, lawyer, and doctor, and submit your microblading work to be graded. You get half a year of exclusive access to the biggest and best in the eyebrow world, included in your course fee. We are here for your success.
Click here for a video on Craft Master.
That's still not all!
Every workshop participant also receives a FREE Microblading Premium Kit containing the pigments, pencils, and tools needed for you to start your microblading service off right. Which means you'll be ready to start taking clients as soon as you finish - and you'll have everything you need to do so.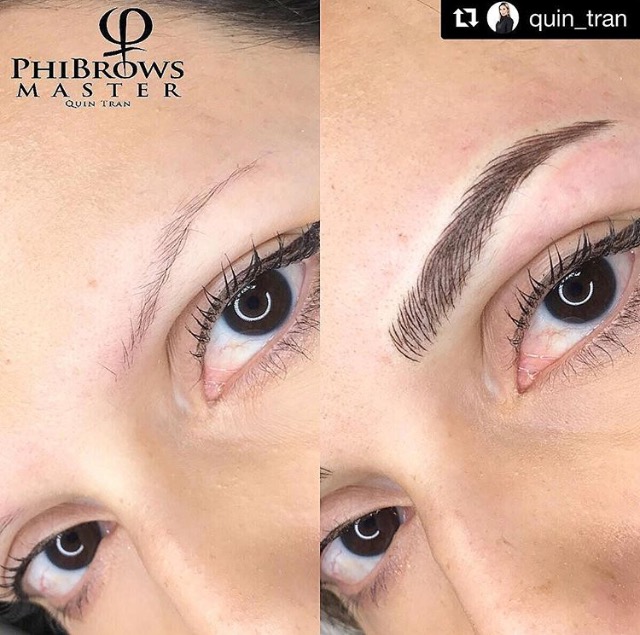 Quin Tran's talent cannot be overstated. Would you have had any idea that those brows are tattooed on?!? Be taught by a true master.
New to microblading? Already certified elsewhere?
Learn the basics of microblading if you're just starting out, or learn the latest techniques and master your skills if you've already got experience. The small and intimate setting of the classroom means everyone will come out of the workshop with a new level of mastery. And with the six months of access to Craft Master and your FREE Microblading Premium Kit, you'll never feel like there's nothing left to learn. Honestly, you don't truly know microblading unless you've experienced PhiBrows.
It takes less than eight new clients to pay for this master class workshop, and four new clients to pay for Bold Brows.
New microblading applications average $525 in cost. Which means that less than eight new clients later, you've already made your money back. Talk about a sound investment! Attend the PhiBrows two-day workshop, build your microblading expertise, get access to six months of invaluable support, and earn the course cost back in a week. The only risk here is that you'll be too late to secure your spot remember, we only have room for ten participants.
So... what's it cost?
For our May 12/13 workshop with PhiBrows Masters Quin Tran and Taiyaba Saleem, six months of access to Craft Master (where you'll have hours of tutorials, access to PhiBrows experts, and the opportunity to get your work graded), and your FREE Microblading Premium Kit with all the pigments, pencils , and tools to get started, you're looking at a package worth well over $7000.
But, we're not going to charge you that much.
We want you to be able to access this amazing program, so we've made PhiBrows' first time EVER coming to Calgary an economical experience. Get everything we've talked to get your basic certification about for a total of $3800 CAD (plus GST). Add on our Bold Brows one-day workshop for just $2000 CAD (plus GST). That means you're getting all the training you need to be brow-mazing for less than the value of just the basic workshop. Prices have been going up each time we offer this, so don't wait for some unknown future opportunity. You'll end up paying too much. Plus, there's only ten spots available for each workshop—if you don't sign up now, you might just miss the boat.
What will I learn?
Your two-day workshop will be PACKED with information from the very best. Learn both the theory and the practical application of microblading, so you know how to achieve those perfect brows every. single. time. Want more specifics? Here's the workshop agenda:
Day 2: Practical
Microblading practice
Experimenting with New Tools
Practice on live models*
*student is required to provide one model if they live within an hour of Calgary
Day 1: Theory
Hygiene
Contraindications
Colour Theory
Craft Master
Practicing on Latex
Experimenting with New Tools
What's in my kit?
We've already told you that your FREE Microblading Premium Kit contains everything you need to get started, but what specifically is in it?
*TOOLS
2 Classic holder
2 Eccentric holder
1 PhiBrow Tool
50 U Blades
1 PhiBrows Tweezers
1 PhiBrows Scissors
PHIBRUSH DISPOSABLE TOOLS( each box contains 10 disposable tools)
1 U-Blade Eccentric
1 14-Blade Classic
1 U-Blade Classic
*BASIC PIGMENTS (10ML)
Fox, Golden Brown, Brown 1, Brown2 and Brown
*PROFESSIONAL PIGMENTS (10ML)
Arabian Night, Sunset and Warm Effect
*SKIN CANDY- Home aftercare for the clients (50pcs)
*GOLDEN RATIO DIVIDER- Tool used to determining the perfect brow symmetry
*PENCILS (2pcs)-for drawing the perfect brow symmetry
What are you waiting for?
Spots are filling up, this deal will never be this low again, PhiBrows is a proven master at microblading, and you get six entire months of support for a fraction of the cost. It's really a no-brainer. Become the amazing artist. Stay relevant in the beauty world. Create expert eyebrows. Wow your clients. Sign up TODAY.